Welcome to my blog!  How exciting  🙂


I thought it would be a wise choice to begin documenting my adventures after one of life's milestones… the birthday.  As each month (maybe year?) flies by, I thought it would be neat to see how much I've grown as person, wife, and drum roll… gluten-free baker, cooker, follower!  So here goes…


Almost exactly one month ago I turned the big "30-7" as my brother would call it.  So naturally my husband Beau and I agreed this meant a week full of cake-like goodies!  I like to believe that calories don't count during one's birthday…


Flipping through my favorite new cookbook, "Easy Gluten Free Baking" by Elizabeth Barbone, I stumbled across an old favorite treat… Boston Cream Pie!  I remember eating the glutinous store-bought versions of this delectable treat back in my childhood: three layered cakes filled with thick pudding and topped with soft chocolate.  Mmmmm.  Making myself drool already!  Drooling aside, I decided to make a gluten-free version of this "pie."  
The night before my birthday, I made the cream filling so it could set overnight.  Let me tell you Ms. Barbone was right on with this filling!  I actually followed the recipe exactly (yes, ask Beau, I have issues with reading recipes thoroughly haha) and the end result was excellent!  Beau and I savored the "excess" cream filling in the pan and I placed the rest in the fridge.  This filling would be delicious in combination with any flavor cake.  And in donuts.  Like Boston Cream Pie donuts.  Oh.  My favorite donut at Dunkin Donuts.  I'm hungry right now.  Can you tell?  I'm baby-sitting right now and the little boy is, well, I hope asleep!  Back to donuts, however, I would LOVE to be able to make g-free Boston Cream Pie donuts one day!


My birthday proved to be a super busy one and Beau actually completed my cake for me!  My lovely friend Meagan took me out for a mani and pedi and when I came back Beau surprised me with a finished g-free Boston Cream Pie!  


My, err, Beau's Boston Cream Pie with whipped cream
The cake was pretty tasty, however, it was very thin.  When I get the craving again, I will definitely experiment with Barbone's cake recipe.  It just needed a little bit more of some sort of flavor.  I'm not sure… buttery flavor possibly?  Or would it have had more flavor if the cake was thicker?  Any thoughts anyone?  By the way, totally check out the similarities between our g-free version above and the very glutinous one below… Dear Gluten, boy do we have some competition for you!  haha!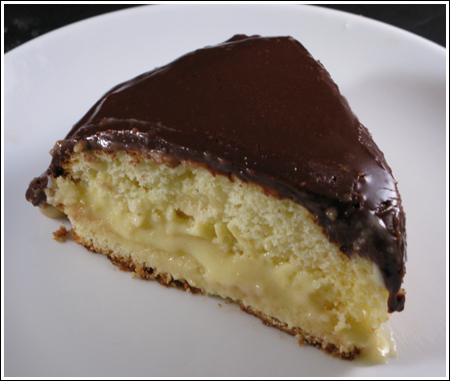 image of a very Glutinous B.C.P from  http://www.cookiemadness.net/2008/06/boston-cream-pie-joy-of-cooking/